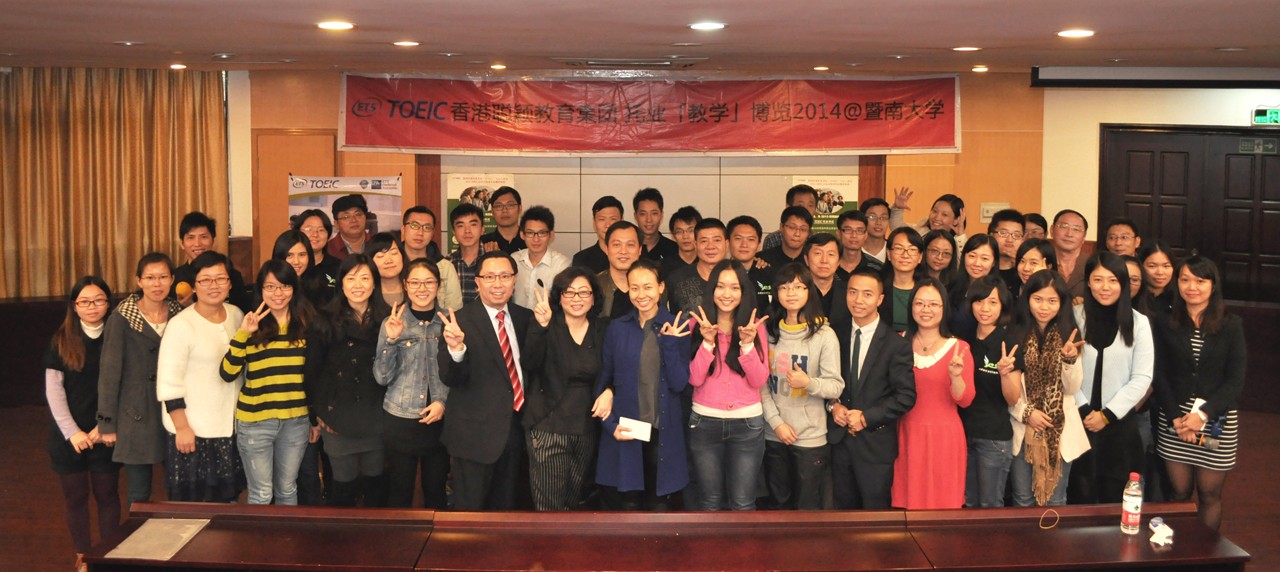 TOEIC® "Teaching and Learning" Expo 2014 was successfully held on 8th November, 2014 by Smart Education, the official representative of ETS TOEIC tests in South China, at Jinan University in Guangzhou. Many universities and training organizations were invited to participate. Over 100 university and English teachers attended the Expo to exchange ideas on how we could help to prepare students for success and improve their English skills.
Ms. Elsa Tsang, General Manager, Mr. Vincent Cheng, Sales Director – Global Assessment Division, and Ms. Kelsey Zhang, Editorial Manager of Smart Education explained "Why TOEIC Matters to Students in China", "How we can help students prepare for the TOEIC tests", as well as the launch of TOEIC OLPC, ETS's latest Official Learning & Preparation Course for the TOEIC® tests to our audience.
In addition, Smart Education shared our development plan for TOEIC in South China, as well as many TOEIC success stories in our region in the past few months since Smart Education became the official representative of TOEIC® in China.
Please visit www.mysmartedu.com.cn/toeic or www.TOEIC.com.hk for more information on how TOEIC® tests help over 15,000 organizations in 150 countries get ahead of the competition in the global economy.
About the TOEIC® tests
ETS, the industry leader in English-language assessment for over 60 years, designed the TOEIC® tests to measure workplace English skills. For more than 30 years, over 14,000 organizations (businesses, government agencies, universities and vocational schools) in 150 countries rely on the TOEIC® tests to demonstrate English proficiency and help them get ahead of the competition. More than 7 million TOEIC® tests were administrated in 2013.