Posted by Smart Education Co. Ltd. (May 12, 2022)
Latest Precautionary Measures
According to CHP & EDB, for the health and safety of all test takers and staffs, before leaving for the Examination Centre, test takers must:
1. Perform the COVID-19 rapid antigen test and obtain a negative test result
**Please take a photo of their negative RAT result next to their identification document for record purposes and retain the photos throughout the examination period for random check. Those making a false, incomplete or misleading declaration may receive a penalty or even be disqualified from the examination**
2. Complete and sign Test Taker's Declaration on Health
3. All test takers must comply with the latest prevention and control of disease regulations set by the government (e.g., using "LeaveHomeSafe mobile application and presenting the vaccination pass), and cooperate with the anti-epidemic measures in the exam venue. Otherwise, test takers may be refused entry into the exam center to sit the exam, and the exam fees are non-refundable.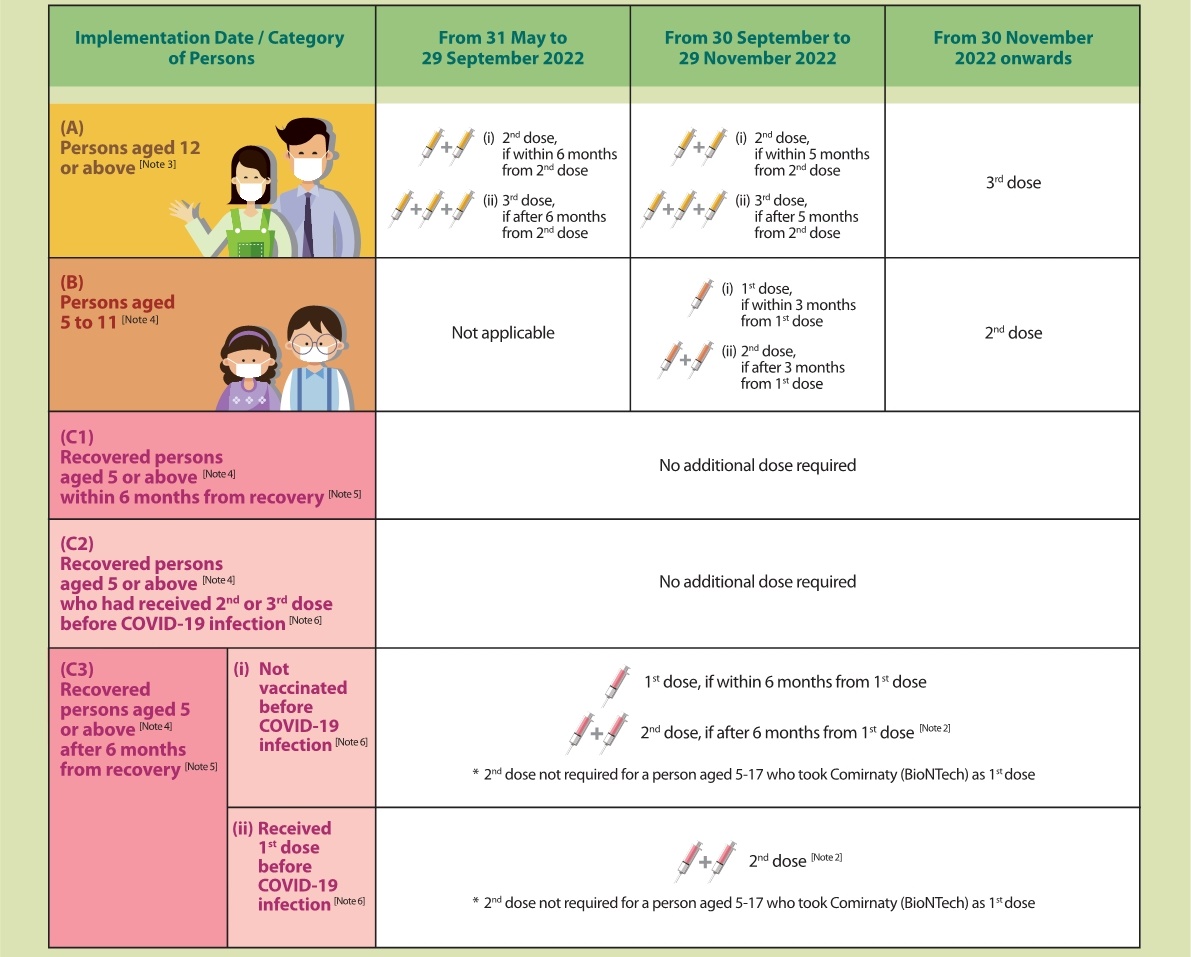 Dosage Schedule for Vaccine Pass (Please click here for full version)
4. Only test takers will be allowed inside the premises of test center.
5. Examination personnel and test takers must put on surgical masks at ALL times inside the test center.
6. All examination personnel and test takers are required to measure their body temperature and use alcohol sanitizers before entering the test center.
7. Test takers with body temperature exceeding 37.6°C are required to leave the test center and will be marked absent. Test takers should contact Smart Education to reschedule.
8. Persons who have travelled outside Hong Kong are subject to quarantine requirements according to law. For information regarding quarantine for inbound travellers, please visit the following website: www.coronavirus.gov.hk/eng/inbound-travel.html. Household members of confinees under quarantine
are advised to take heed of measures including avoiding going to crowded places, wearing a surgical mask when taking public transport or staying in crowded places, maintaining good personal hygiene, etc. Details can be found at the following website:
www.coronavirus.gov.hk/pdf/Points_to_note_for_household_members.pdf.
For any test takers that are confirmed with COVID-19, please refrain from going to examination venue.
Source: https://www.coronavirus.gov.hk