On August 31, 2023, the Macao Institute for Tourism ("IFTM") Studies joined forces with Smart Education, the official representative of TOEFL and TOEIC tests in Hong Kong and Macao, to host an agreement signing ceremony at the Mong Ha Campus. The objective of this signing marks the official authorization granted by the Educational Testing Service (ETS) to the Macao Institute for Tourism Studies, enabling them to conduct TOEFL iBT tests in Macao. Commencing services in September 2023, the Macao Institute for Tourism Studies TOEFL Test Centre will provide additional test seats for the growing number of candidates in Macao and the Greater Bay Area.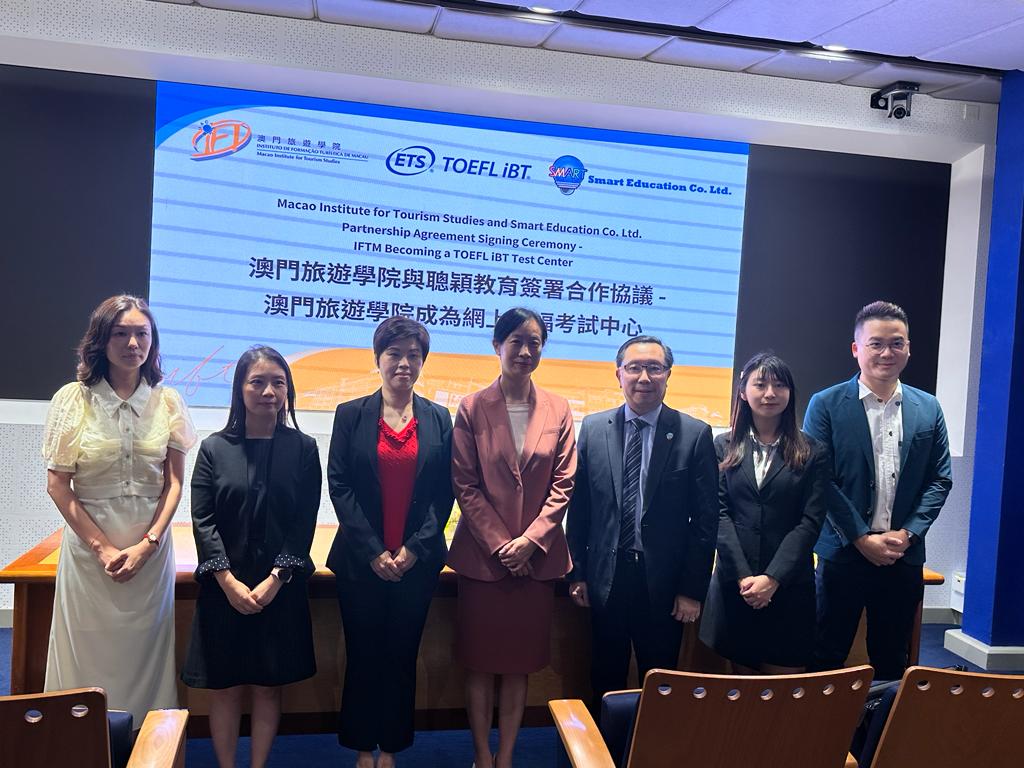 Guests of Honor include (in no particular order):
Dr. Fanny Vong, President, IFTM
Dr. Cindia Ching-Chi Lam, Director of the School of Continuing Education, IFTM
Ms. Sarah Veng-si Wu, Lecturer, Coordinator for Language and Culture Courses, SCE, IFTM
Mr. Kevin Chan, Official TOEFL & TOEIC Representative in HK & MO, President of Smart Education
Developed by the Educational Testing Service, TOEFL assesses the English proficiency of non-native English speakers. If students wish to apply to universities or research institutes in an overseas country such as USA, Canada, UK, Australia and New Zealand, the TOEFL scores will be considered as one of the admission requirements. Moreover, the TOEFL test has been included in the 2023-2026 "Continuing Education Development Plan" of the Education and Youth Affairs Bureau, with Macao residents aged 15 or above would be able to apply for sponsorship after completing their registration for the test. The TOEFL iBT test is conducted via the Internet and encompasses various sections, including reading, listening, speaking, and writing. From July 2023 on, the test format has undergone significant enhancements, comprising an overall streamlined test time of less than two hours. The original stand-alone writing questions have been replaced with more concise and modern academic essay writing questions to present a more convenient and precise means of assessing candidates' English proficiency.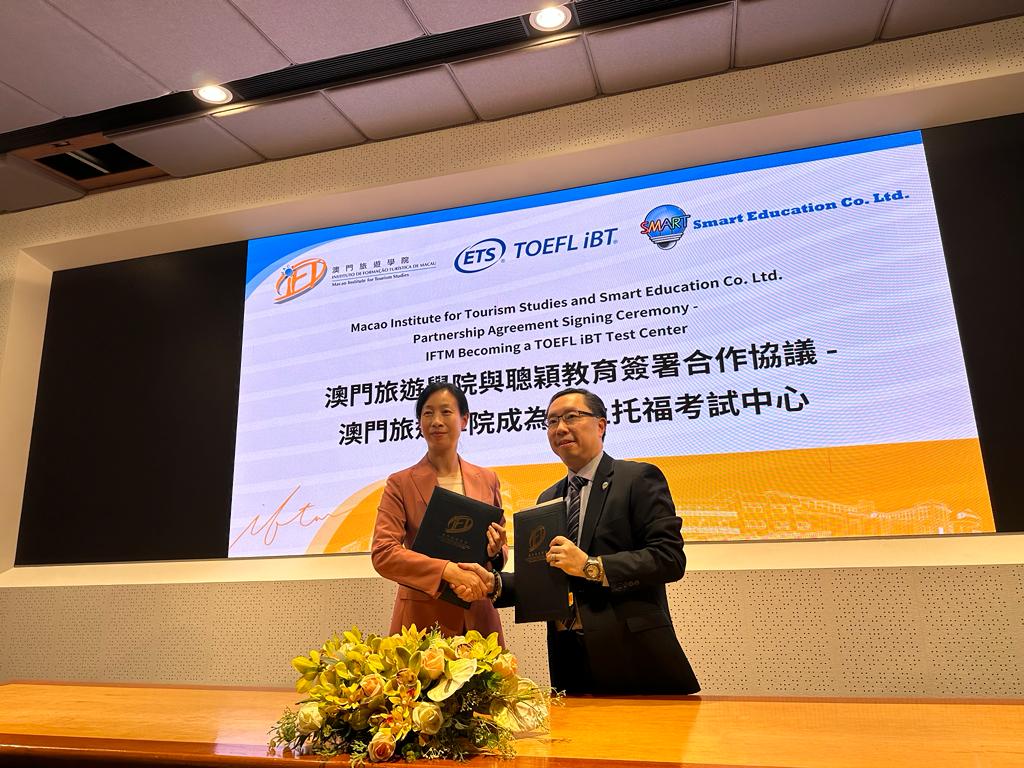 ▲Dr. Fanny Vong and Mr. Kevin Chan
The Macao Institute for Tourism Studies is dedicated to offering international tourism and service industry courses; actively promoting academic and international exchange activities; and providing students with opportunities to connect with the international community. The introduction of the TOEFL iBT test centre will further support the development of Macao as a global tourism and leisure hub, offering learners in Macao additional avenues to enhance their English proficiency and prepare themselves for success.
Smart Education in Media: